What factors should I consider when buying an apartment in Thrissur?
The location of your home should be a convenient one for you and your family to commute to your workplace or school. It should be easily accessible to shopping outlets and other facilities.
Check the neighborhood that should be a safe residential area.
The security arrangement in an apartment complex is very important. It will discourage unwanted strangers, beggars and sales representatives. Even if you go away from home for a few days, you can be assured of safety and security.
Your new home environment should be a positive one that facilitates healthy living and growth. Greenery and unpolluted air, landscaped surrounding as well as recreation facilities are important.
For affordable Apartments in Thrissur, call Kairali Homes today.
Becoming a homeowner is a significant milestone in your life. You want to look back upon this important decision with pride and happiness. Kairali Homes-professional builders in Kerala, is amply qualified to help you realize your aspirations of a new home. Call us today for details. We will help you find an apartment that promises value for your hard-earned money in a peaceful residential area for a fair price.
What are the quality considerations that I need to take care of while choosing my apartment?
Assess the design and layout of your apartment. Check the specifications in detail including the dimensions of each space.
Study a few projects of your builder to understand the quality and standards offered. Get feedback from current owners about the living standards. Therefore, move onto builders who is recognized and well received with compliments.
For Flats in Kerala that promise capital appreciation, please call us today. We will be happy to answer your queries and address your concerns.
What factors should I consider when choosing my builder?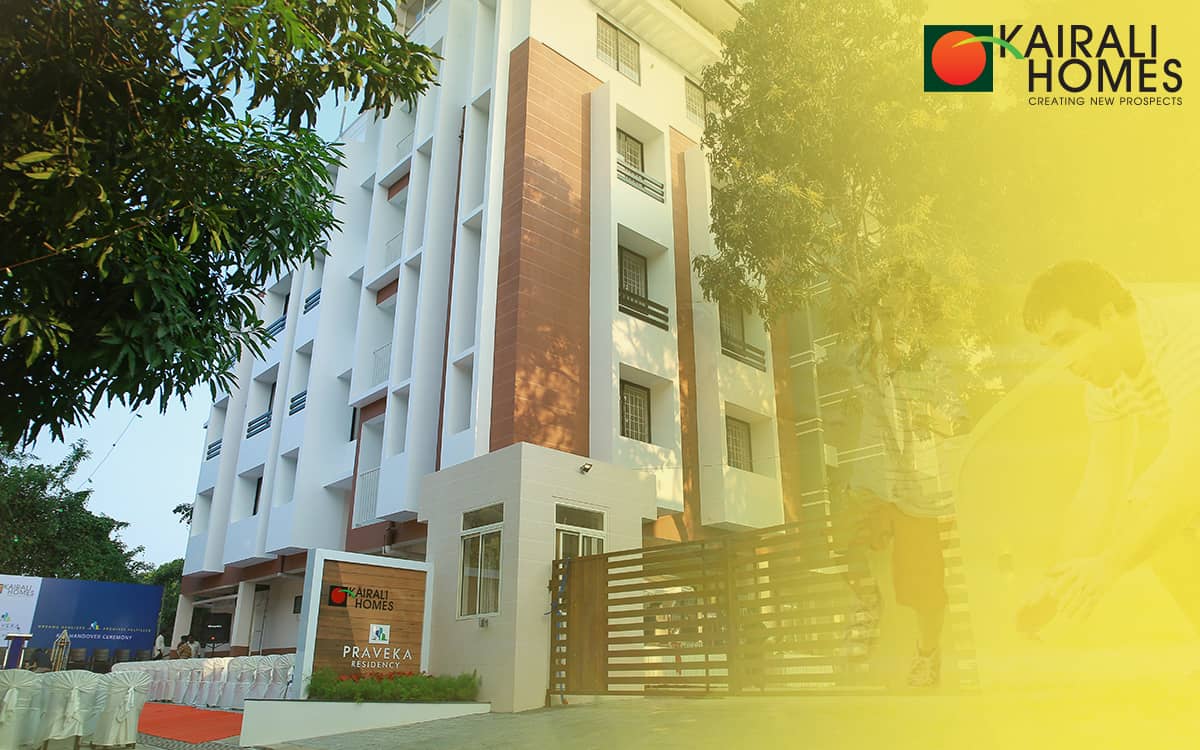 Choose a builder with a record of timely completion and delivery of projects. When you choose a group housing project such an apartment complex, the size of the project influences the time of delivery. This is because the completion of the project depends on several other factors such as timely payment capabilities of other buyers and the resourcefulness of the builder. Only a builder with sufficient experience and expertise in project management can design and deliver projects on time.
Quality of construction and regular maintenance of the structure will go a long way in determining the resale value of your apartment.
Kairali Homes, professional Builders in Kerala at Punkunnam, Thrissur is reputed for completing several premier residential apartments and villa complexes in strategic locations at Thrissur. Call us now for details regarding Apartments in Thrissur.
Before making the purchase, ask your builder or seller for a copy of the title deed and all other necessary documents related to your purchase. In many cases, clients receive possession of the apartment unit after construction, but experience delay in getting the ownership papers. This happens because your builder may not have cleared off all the liabilities.
Make sure your builder has quality accreditation like ISO: 9001. A good builder will have a team of qualified engineers to oversee every detail of construction and structure in compliance with stipulated norms. Get assured of good quality finishes and fittings, installed according to proper standards.
Get the Kairali Homes advantage today for Flats in Kerala. The professional builders at Thrissur offer prestigious projects with the approval of leading financing institutions. Call us now for more information on completed and ongoing housing plots, villas and Apartments in Thrissur.