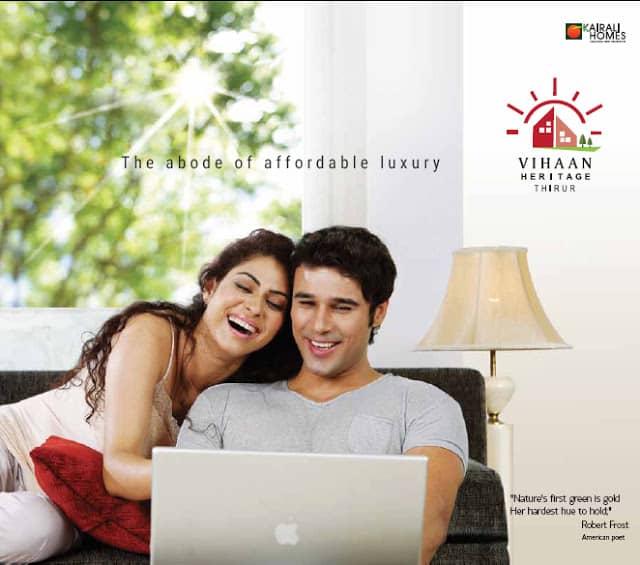 Vihaan, the name signifies 'a new beginning'; a new beginning to a peaceful and comfortable lifestyle with all the modern facilities and luxuries, yet at an affordable price.
Vihaan Heritage, the fifth Project by Kairali Homes is conceptualized on the idea of affordable luxury; to provide premium Homes at a budget price without compromising quality and delivering our promises in time. An array of 12 exquisite villas, with a 12 feet tile paved road with adequate landscaping and led lighting provides a rich visual experience. Above all, Vihaan Heritage located at Thiroor in a serene and peaceful environment, but at a very close distance (350 mtrs) from Thrissur-Shornur highway. The ambiance of a village with the proximity of highway is the added advantage that Vihaan provides.
At Kairali Homes, we value our customers more than anything else. We consider 'Quality' as the prima facie attribute towards Customer Satisfaction. The focus on Quality has been endorsed on all levels of the construction process and on material selection for each and every home that we built. Kairali Homes does not just sell homes; but we partner with the homemaker to plan, make and also support them in future.
Apart from Quality, we consider timely delivery as the most satisfying attribute for any customer. We take pride to inform that our previous Project, 'Praveka Villas and Apartments' was delivered 2 months earlier than the proposed delivery date.
As a premium villa at a budget, Vihaan (3BHK 1302 Sqft layout area) is priced at an affordable 52 Lakhs each villa having 4 cents of Land area. The specifications for our Vihaan Villas are as below.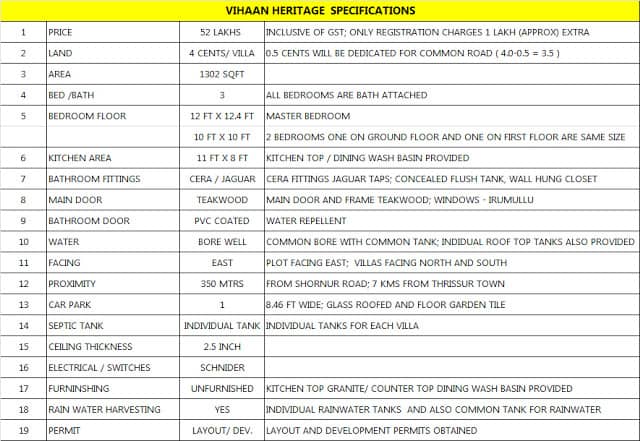 Also, we associate with major banks like SBI Bank and HDFC Bank and most other Banks to provide housing loan to our customers. You can book a villa and sit back while our executives complete the loan procedure.
Come, partner with Kairali Homes to make your dream home a reality. We assure our commitment in providing the best, filling your Home with all the happiness and well being it deserves.
Thank you,